Studio Is Now Open. Additional Virtual Classes Available.
Our mission

At Fusion Fitness, we are dedicated to providing our clients with the leading fitness technology in Pilates and Personal training in a friendly atmosphere. Our trainers are focused in motivating and inspiring every individual to achieve their personal best. Our class sizes are kept small (max 7 students) in order to provide the best quality instrucion in the safest enviroment. We respect your investment so we will never EXPIRE your sessions. Try your FIRST FREE CLASS* any day of the week we offer classes. No contracts, and no start up fees. While Fusion Fitness offers many paths to inspire and motivate, our mission is to be your total fitness solution.
Now Offering Barre Classes and TRX Classes. Learn more
OUR SERVICES
---
Set to upbeat music for motivation, our 55-minute class starts with a warm-up and sequence of upper-body exercises using light free weights, push-ups and planks. It's here that we target the biceps, triceps, shoulders, chest, back, and core muscles. Then we move into a series of ballet barre or floor exercises that focus on the thighs, glutes, and calves. All while maintaining your elevated heart rate to maximize calorie burn. Towards the end of each class there will be a stretch sequence.

TRX Suspension fully incorporates muscular strength, muscular endurance, core strength, flexibility, power, balance, and alignment. Unlike traditional weight training that tends to be linear, Suspension Training encourages multiplanar training which integrates all your motions and mimics real life movement

Mat Pilates uses, a mat and your own body to perform seated and reclined exercises that challenge the entirety of your core, the area from your hips to your shoulders. The Reformer resembles a bed frame, equipped with cables, springs and a sliding carriage to perform many of the moves you do on a mat, and so much more. Both have value, but differ in execution.

Stretching can help improve flexibility, and, consequently, range of motion in your joints. Better flexibility may improve your performance in physical activities or decrease your risk of injuries by helping your joints move through their full range of motion and enabling your muscles to work most effectively.
Foamrolling
Self-myofascial release, also known as "foam rolling," has transformed from a once mysterious technique used only by professional athletes, coaches, and therapists to a familiar everyday practice for people at all levels of fitness
Our Studio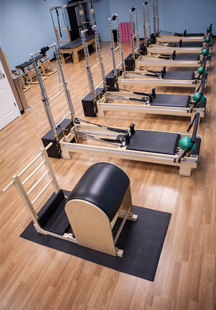 Our world-class studio features the latest top-of-the-line fitness technology, from Cadillac and Reformer apparatus for Pilates exercises to resistance machines and free weights for personal training. We also provide TRX Suspension Training classes. Fusion Fitness also plays a big part in our community. We try to give back the healthy way with free workshops and fitness events.
More